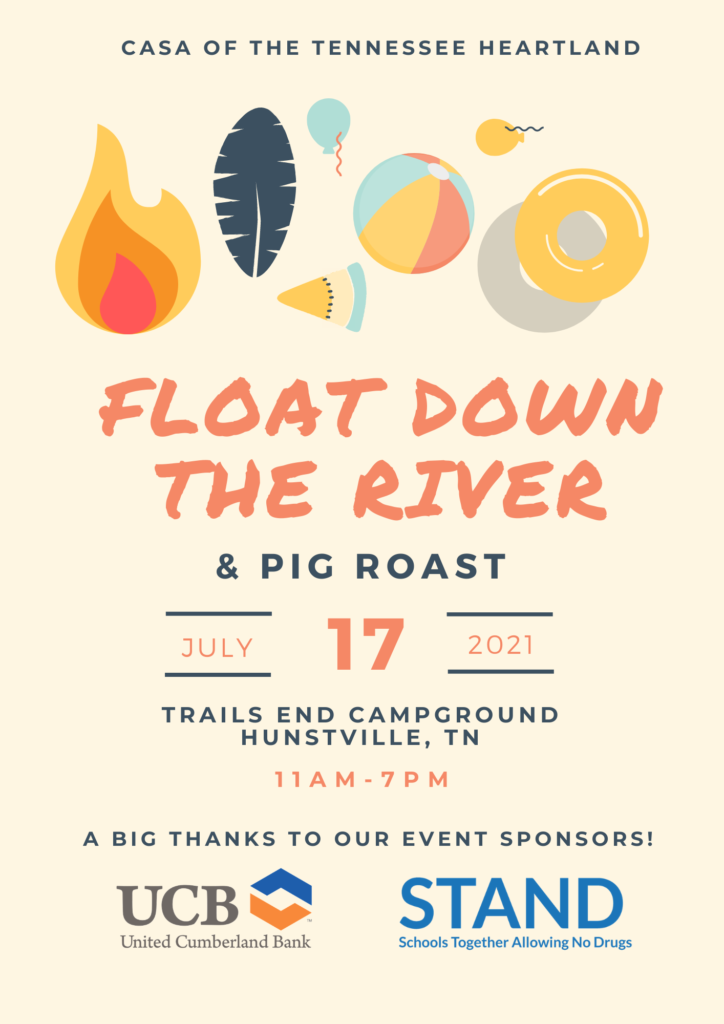 Float Down the River & Pig Roast
July 17, 2021 11am-7pm
IMPORTANT!! Ticket sales will end JULY 15TH so make sure to grab your tickets at the link below!
Join CASA of the Tennessee Heartland while we float down the river & eat yummy dinner at Trails End Campground in Huntsville, TN!
Floating starts at 11am with the trip taking approximately 2-3 hours down the river! Shuttles will start running at 1pm until 4:45pm to pick you up and take you back to your car! PLEASE BRING YOUR OWN FLOATS, TUBES, KAYAKS, CANOES, THEY WILL NOT BE PROVIDED!
Dinner will be served at 5pm tailgate style with roasted pig and delicious sides! BRING CHAIRS, BLANKETS, ETC WITH YOU!
Tickets cover both the Float Down the River & the Pig Roast at $15 per person! Click the link below to make a donation for the amount of people attending with that are ages 5+. Keep your confirmation to act as your ticket! Ticket sales will end on July 15th, two days prior to the event!
BBQ & Bluegrass Bash
August 28, 2021 6-9pm
The BBQ & Bluegrass Bash is back in Blount County on Saturday August 28th from 6-9pm at Smithview Pavilion in Maryville!
The BBQ & Bluegrass Bash is a fun-filled, informal evening to benefit CASA of the Tennessee Heartland's work with abused and neglected children.
Come support the kids while enjoying barbeque and live bluegrass featuring the Tennessee Sheiks!
Tickets will be available the week of July 19th! Keep an eye out for the ticket link!