Greetings! Each and every one of you reading this has contributed by donating, volunteering and/or connecting some way to the CASAtnh organization.
It is our entire organization's hope that when a CASA child has grown they will remember that during one of the hardest times of their life, someone cared about them.
Thank you for helping us persevere on behalf of our kids in need to ensure they have a safe and loving home where they can thrive.
And for continuing to believe in the mission of CASA of the TN Heartland.
2022 In Review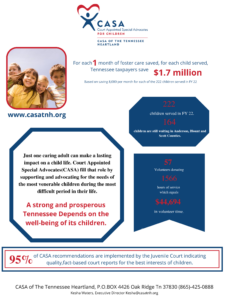 Volunteer Spotlights
Volunteers are the backbone of our organization, without them we would not exist. They are the voice for the voiceless and true champions in the child welfare system. This year we will celebrate the dedication and resilience of our amazing CASA's by highlighting their milestones and accomplishments. Thank you to each of you for your hard work and dedication to advocate for the abused and neglected children we serve. You are so appreciated and valued!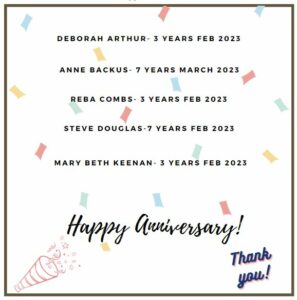 DRUM ROLL PLEASE…
Because of your generosity, we surpassed our December Month of Giving Goal!
We raised $16,877.5
The money raised during our month of giving will allow us to recruit, train and supervise 25 new volunteers who will advocate for at least 75 children in Anderson County. We are eternally grateful for all of you. Thank you so much for the continued support!
This year we had a generous offer from Phyllis S. Meredith to match up to 10K in honor of her late husband, the Honorable Jennings B. Meredith, retired Anderson County Juvenile and General Sessions Court Judge. Judge Meredith was the driving force in bringing CASA to Anderson County in 1987. He supported CASA throughout his time on the bench and was a true champion for abused and neglected children in Anderson County.
Upcoming events in 2023:
We have some great things planned this year! make sure to follow us to keep up with the latest updates!

NO GO Red Shoe GALA
" There's no place like home & every child should have a safe one"
The No-Go Gala is an new campaign that raises support for CASA of the Tennessee Heartlands programs. We invite donors NOT to attend an event, but instead to donate what they would have spent on a night out to our cause. In the campaign's 1st year, we invite you to enjoy this "red shoe" theme in the comfort of your home and be a hero yourself by making a gift to support CASA.
Be sure to stop by our "upcoming events" page for updates as the new campaign evolves!

Uncork & Unwind at the Barn
We will be having a Summer Wines event this year!
SAVE THE DATE!
Saturday June 3rd 2023
5:30pm- 8pm
Address: 125 Lone Ridge Rd Clinton TN 37716
Tickets:$75
Tickets will be Available Starting April 10th 2023.
This event will be a light hearted casual evening. Come join us for some tasty hors d'oeuvres and delicious wine while supporting our great cause!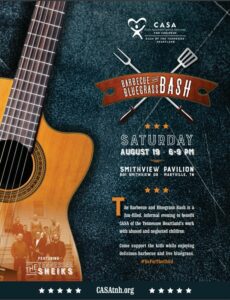 Barbecue and Bluegrass Bash
Save the Date!
Sat Aug 19th 2023
6:00 pm- 9:00 pm
Smithview Pavilion (601 Smithview Dr. Maryville, TN 37803)
Check back for Ticket Prices and Event updates!