Calling all community members: Volunteers NEEDED!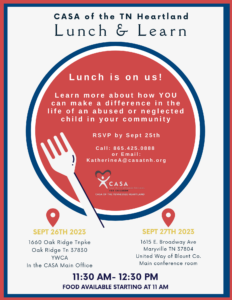 CASA of the TN Heartland will host two lunch and learn sessions on
Sept 26th as well as Sept 27th.
Each session is an informal opportunity for the community members to learn more about CASA and how their volunteers are helping abused and neglected children in Anderson and Blount Counties.
Each session will be held at 11:30 am – 12:30 pm
Food available starting at 11 am.
The staff for CASATNH will give a brief presentation to educate attendees about the role of CASA volunteers and the need for the program in the Anderson and Blount County communities. Attendees will also hear from a current CASA volunteer and will be encouraged to ask questions.
Attendees are asked to invite their friends, family or colleagues who might also have an interest in CASA to attend the lunch and learn with them.
There are currently more than 300 children that are in need of a CASA.
The CASATNH board of directors and staff are committed to growing the program in Anderson and Blount Counties to meet this need.
The session on Sept 26th will be held at the YWCA building at 1660 Oak Ridge Tpke Oak Ridge TN 37830.
The Session on Sept 27th will be Held at the United Way Building at 1615 E. Broadway Avenue Maryville, TN.
Interested parties can RSVP by Sept 25th  for a session by calling 865.425.0888 or emailing katherinea@casatnh.org
EVERYONE IS WELCOME!
CASA of the Tennessee Heartland is a local non-profit organization that recruits, screens, trains and supports volunteers who advocate for the best interests of abused and neglected children in juvenile court cases.
Check back for more Volunteer information and updates!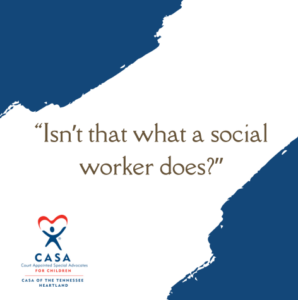 When describing what a Court Appointed Special Advocate (CASA) volunteer is to new comers, we are often met with, "Isn't that what a social worker does?"
At first glance, there are several similarities between the role of a CASA and that of a social worker: both see the child monthly, submit a court report to the judge prior to each hearing, and are committed to monitoring the child's wellbeing. However, there are unique differences between the two professionals, some of which put the "special" in Court Appointed Special Advocate.
The Unique Differences:
One of the most obvious but overlooked differences between the two is that a CASA is an everyday citizen who has chosen to volunteer, while a social worker is a paid county or state employee. That may not seem like much, but to a child it can make all the difference. Often, the CASA is the only person not paid to be in a child's life. The dynamic of the relationship changes when a child knows their CASA has actually chosen to be involved in his or her life.
Another distinguishing factor of the CASA role is the one-on-one advocacy they provide. Generally, a social worker can carry a caseload of up to 25 families, which can make a comprehensive investigation of each case a challenge. A CASA is assigned to only one child or sibling set, allowing for additional time to monitor a child's progress and ensure that the child's needs are being met.
While a CASA's volunteer role and individualized advocacy are critical, perhaps the most impactful difference between a social worker and a CASA involves consistency. CASAs are a constant, stable adult in a foster child's otherwise ever-changing life. Children's social workers can change frequently, depending on the child's permanent plan, age, placement type, and many other factors. CASAs are expected to remain on the case despite any change in the child's circumstances. This consistency provides the child with a needed sense of security during an uncertain time and helps them to become more resilient when they enter adulthood.
A CASA volunteer and social worker each have a distinct role and set of responsibilities. As a special member of the child's team, a CASA helps to ensure the child's needs are met and makes them feel a little less alone during a complicated and scary time.
There has never been a better time for you to consider becoming a Court Appointed Special Advocate (CASA) volunteer!