November is our  Month of Giving

Why are you promoting the Month Of Giving and Giving Tuesday?
-Great Question! Things have been a bit different throughout this year causing us to cancel a few of our events. Our events help us reach our donation goals so we can continue to serve in our community. Giving Tuesday is on November 30th this year. We wanted to give everyone ample time and opportunity to give if they choose! So throughout the month of November leading up to Giving Tuesday, we are showcasing our Month of Giving!
 What we really want is let everyone know is why staff, volunteers, and board members give their time and care to our organization and the children that we serve. Tune in to our Facebook and Instagram to see why we do what we do!
If you would like to give, you can donate monetarily on our website:
www.casatnh.org
or through the mail: P.O. Box 4426 Oak Ridge TN 37830, you can donate your time by volunteering, or you can spread the word and share our message to others!
 Announcement!!
Christmas Minis are back!! Be sure to book your spot ASAP! details below!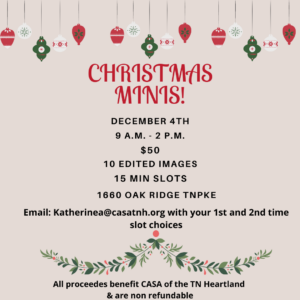 Stop by to enjoy our holiday market!