Hello sweet summertime!
CASATNH has been busy so far this summer. We have had two give back nights to help benefit our program.
We have GREAT news! One of the give back nights has turned into a MONTHLY give back day!
That's right! We have teamed up with local ice cream shop Baby Razzleberrys.
Every SECOND Tuesday of each month they will host a give back day to help support our program! How amazing!
What's a better way to cool off this summer than with some delicious ice cream while helping our cause?!
Here are the tentative dates for the give back days :
July 12th 2022
August 9th 2022
September 13th 2022
October 11th 2022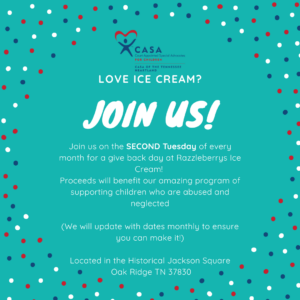 Be sure to follow us on Facebook and Instagram to see the most updated posts about this wonderful opportunity!
2022 BBQ & Bluegrass Bash
Our annual BBQ & Bluegrass event is right around the corner! Tickets are now available, be sure to get yours so you don't miss great music and delicious BBQ!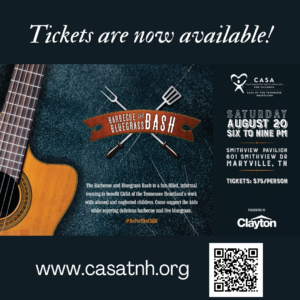 Russ Nellis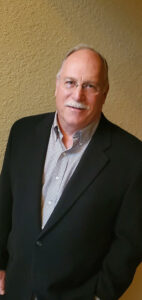 We would like to extend a huge thank you to one of our wonderful volunteers Russ Nellis. Russ has been an absolute lifesaver for our Blount county program. He has stepped up to assist our program while we find a permanent Blount county coordinator. A little about Russ:
Russ Nellis is our current a Blount County Interim Program Coordinator.
Russ has lived an admirable life being married for 36 years and raising two successful daughters whom he and his wife, as well as the community are very proud of. During his professional years he spent most of his career in the marine industry; 25 years with Brunswick/Sea Ray Boats, 6 years with Carrier Corp, and 7 years with Master Craft Boats. Russ has served in professional leadership roles over the years that have given him the knowledge and integrity he possess today. He serves those in his community on a regular basis and continues to be a beacon of light and hope for the abused and neglected children in the Blount County foster care system and to all who know him. We are grateful for Russ stepping in to help our program while we search for a permanent Blount County Coordinator.
We sincerely appreciate all he has done to help us, it does not go unnoticed!
THANK YOU RUSS!