Welcome spring & Hello April!
We hope you are enjoying this beautiful warm weather!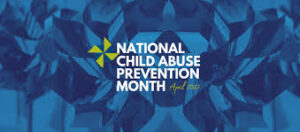 April is National Child Abuse Prevention Month.
Click the highlighted words to Learn tips and strategies to help
keep children safe and promote family
well-being.
#ChildAbusePreventionMonth
#ThrivingFamilies
 It's so important to know how to identify and prevent child abuse. If you would like more information, visit the Prevent Child Abuse website

 National Volunteer Week 2022 is April 17 – April 23
This years theme for National Volunteer week is:
Volunteering Is Empathy In Action.
This theme affirms the strong connection between volunteerism and empathy. This profoundly human connection is at the heart of healthier individuals and stronger communities.
Empathy is a quality that can help people relate to others and build awareness around different experiences. It connects people in ideas and actions and helps create bonds forged in common goals and aspirations. Volunteering can help us develop empathy, to see the world through the eyes of others. It can connect people from diverse backgrounds and life experiences, expanding our views. It can build our capacity to work collectively and contribute to a vibrant, inclusive society.
From county to county, in formal and informal settings, volunteers create caring, collaborative, and compassionate communities.
During National Volunteer Week 2022, we celebrate the contributions of CASA volunteers: their actions, their understanding, and their genuine concern for the kids we serve.
Join us during April 17th- 23 as we spotlight, showcase and show our upmost appreciation for the ones who help us reach more children.
Follow us on our social media platforms to stay up to date with us!