Hello Friends!
What beautiful weather we are having after weeks and weeks of rain! Despite the dip in temperature it has been beautiful outside.
We hope you have been able to enjoy some of this amazing weather!
Child Abuse Prevention Month
April was Child Abuse prevention month we had the pleasure to partner with the Anderson County Justice Center for an Ice cream
Social on April 28th at Razzleberrys ice cream in Jackson  Square!  We offered resources and information from both
agencies outside of Razzleberries for the duration of the event. Here is a free color sheet you can download!
Child Abuse Prevention Color Sheet
Check out a few pictures of the enjoyable time. We even had or friends over at ORFD bring the Fire Truck for a visit!

Volunteer Appreciation
April 17th – 21st was Volunteer Appreciation week!
We celebrated our Volunteers by delivering a special thank you package to each of the during the week to show them how much they mean to us!
We are so grateful for each of our volunteers we couldn't do it without them!
Snack N Learn
We held a Lunch N Learn in Scott Co in Jan and a Snack in Learn in Blount Co in May.
We had a great time answering questions and hearing from our communities!
Keep an eye on  our upcoming events page for future offerings!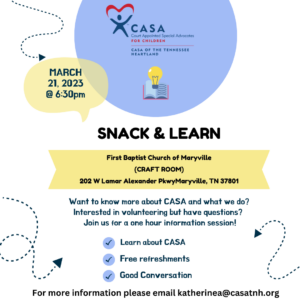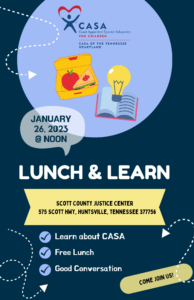 Child Advocacy Days
What have CASA staff been up to?
Our Executive Director Kesha and Anderson County Coordinator Michelle
took a trip to Nashville on May 7th and 8th to be apart of Children's Advocacy Days! This event was offered by the
Tennessee Commission of Children a Youth one of our Community agencies we love to be apart of.
They both enjoyed the connections made and information learned!
"Much like an orchestra with its blend of instruments and sounds, every community strives to be in harmony,
all its instruments in tune, each playing its part in the symphony. In a community, policies and systems must work together to achieve
harmony to enrich the lives of all children, youth and families. Organizations that work collaboratively bring disparate melodies together to create
a symphony far greater than its individual parts. As an orchestra, each community creates its own powerful, joyous sound."
Cards for CASA
Lucy Lee Galleries presents CARDS FOR CASA!
Our dear friend lee has used her phenomenal talent to raise money for our mission! 100 % of the proceeds will go to our program to recruit & train volunteers to advocate to the abused & neglected. Here is an excerpt from her Instagram:
"Please help me raise money for CASA of the TN Heartland. A cause near to my heart. I volunteered as a Court Appointed Special Advocate for several years and saw for myself traumatic abuse and neglect situations too many children face everyday. CASAs can make significant differences in their lives by being a voice for the voiceless!"
She is selling sets of eight cards from four of her botanical monogram paintings. Two cards of each image; P for Peace, H for Hope, L for Love and F for Faith along with envelopes and gold foil seals for $20/ set includes sales tax. shipping will be an additional charge of $5 for one or two set orders.
Please DM her to place your order!!!! @lucyleegalleries
Follow her art journey on Instagram @lucyleegalleries